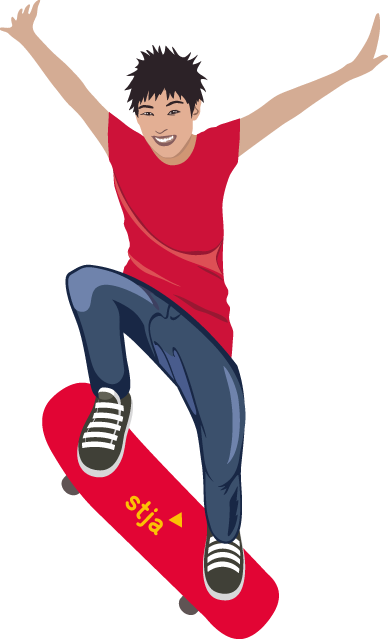 THE KARLSRUHE KIDS PASS –
OPENS THE DOORS TO THE REGION'S
WIDE RANGE OF LEISURE, SPORT,
CULTURAL AND EDUCATIONAL OFFERS
The Karlsruhe Kids Pass – because the region counts on all children and young people
The Karlsruhe region wants to give all children the best possible start in life. This includes free development and encouraging individual talents. This should not depend on origin and individual families' financial means. That is why the Karlsruhe Kids Pass provides young people from low-income families with access to social life where they live and where their interests lie.

In addition, the Karlsruhe Kids Pass includes different services in the form of free entries, benefits and vouchers for extensive offers from participating municipalities, including leisure, sport, culture, education and mobility.

The Karlsruhe Kids Pass therefore ensures more equal opportunities and the alignment of living conditions. And it provides young people with a perspective.

How to get the Karlsruhe Kids Pass: apply once and use it the whole year.
Children and young people in the participating municipalities get the Karlsruhe Kids Pass. It is issued immediately on the spot in the respective municipality, is valid for twelve months and can be renewed every year until the end of their 18th year. All you need is a current, passport-sized photo and the relevant, complete information in its original form or complete documents for evaluation.

Those entitled to it are:
·Children of parents that get ALG II (unemployment benefits), social benefits (SGB XII), housing benefits or family allowance or have a low income.

· Children with a disabled person's pass and considerably handicapped children who make use of social integration assistance services.

· Foster children, children and young people in fixed accommodation according to SGB VIII.

·Children from families with five or more underage children (please bring birth certificates or registration certificates).

Families with a low income who do not get social benefits will have their claim to a Karlsruhe Kids Pass evaluated individually directly at the issuing office. This calculation requires documents related to your income, bank statements and perhaps other documents. Please call your issuing office to find out which documents are required as this differs individually.

· For applications of people without social benefits in the municipalities of the district listed on the right, please inquire at your issuing office for the necessary documents.

The online calculator gives you an initial assessment whether you can get the Karlsruher pass:


What the Karlsruhe Kids Pass has to offer is so diverse that we can only give you a brief overview here. You will find more details about the options by using the symbols on the right.
Whether monthly ticket, summer holiday ticket or school and student tickets: There are discounts up to 50% for different tickets from the Karlsruher Verkehrsverbund (KVV – Karlsruhe's public transportation authority).
There is discounted or even free entry to numerous municipal museums in the region with the Karlsruhe Kids Pass.
The Zoological Garden's annual ticket is available at the Zoo's cash desk in return for a small personal contribution. Entry to various events in the region, such as Das Fest or KSC home games, is discounted or even free.
Facilities, such as the VHS (adult education centre), give up to 50% discount on course fees, the Badische Konservatorium (music academy) and Jugendmusikschule Hardt (music school) give a discount of 66%.
Different outdoor and indoor pools in the region give up to 50% discount off the regular single admission price. In addition, the outdoor pool season ticket is 66% cheaper for children and young people.
Children and young people aged 6 and above get a subsidy for two thirds of the costs (up to a max. of €100) for holiday care, retreats, summer camp and other holiday events from non-profit holiday leisure providers.
Children who receive the Kids Pass but no education and participation package services will receive vouchers for sport and education offers (see below) New places accepting vouchers can contact jfbw on +49 (0) 721 133 5671 for more information.

Education vouchers can be redeemed in full or in part for:

-all activities at Stadtjugendausschuss e.V. facilities.

- sports course at clubs

- musik lessons

- computer lessons

- swimming lessons

- tutoring

- dancing

- creative activities

- retreats

- holiday events
FAQ
1
Does the Karlsruher Kinderpass cost anything?
The Karlsruher Kinderpass is free of charge.
2
When can the Kids Pass be renewed?
The validity period is indicated in the Karlsruhe Kids Pass' stamp field. From the last month of this validity, it can be extended at the respective issuing office.
3
Which documents do I need to make the renewal?
To make the renewal, we require the same documents as if for a new application, but in their current version.
4
Who can get education vouchers?
Children who receive a Kids Pass but cannot use education and participation package services get education vouchers. These are primarily children with disabilities, foster children and children who have a current rejection notice regarding the participation in social and cultural life of the education and participation package.
5
Are education vouchers also valid for adults?
Education vouchers are only valid for the child to whom the education vouchers were issued. They can only be redeemed for events at which the child is a participant. Events for parents cannot be paid for with the Kids Pass vouchers, even for child-related topics.
6
Are vouchers transferable between siblings?
Vouchers are provided to each entitled child within a family, with the validity period and the child's name. Transfer to other children, even within one family, is not possible.
7
Can I find out in advance whether my child will get a Kids Pass?
You can enquire as to whether the issue of a Kids Pass is possible by phone at the telephone number 0721 133-5671. You can find out which information we need from the list of required documents.
8
Do I need an appointment?
In some instances; it depends on the respective issuing office. You will find the opening times of the issuing offices and the respective contact details on the pages of the participating municipality.
9
How long do I have to wait for the Kids Pass?
In Karlsruhe, the Kids Pass can usually be issued directly on the spot and is immediately valid for all offers and services provided that you have the valid information and/or documents plus a photo with you at the time of making the application. Please check the information at the issuing office about processing times in other participating municipalities.
10
What if my child will turn 18 in half a year's time?
The Kids Pass can also be issued in this case. The Pass is valid until the end of their 18th year.
11
I have lost my Karlsruher Kinderpass, what now?
A lost Karlsruher Kidnerpass can be replaced by us. We do not need to see the documents again but we will need a new photo.
12
At what age can children get a Karlsruhe Kinderpass?
Children can get a Karlsruher Kinderpass from birth. This can already be used for discounts at courses or music schools even for small children.